Number two doesn't have to be second best.
December 23rd, 2009
Posted in Humor

More often than not, when my pants are down, I find myself settling for second best. I'm talking about bathrooms, of course. I choose not to use the term restroom because I have never rested while on the toilet. In fact, I always seem to find myself in the position of working harder than I normally would during any other part of the day and it's usually the only time that you will ever find me breaking a sweat. I hope you never find me breaking a sweat while in the bathroom, unless you're an old blind man sitting near the sink  ready to offer me a warm towel and relationship advice. In that case, watch me all you want to. You've earned the right.
Public bathrooms offer nothing more than disappointment. Dirty floors, dirty sinks with empty soap dispensers, magical automatic paper towel dispensers that never work, cramped stalls with locks that don't lock and toilet paper that couldn't soak up the tears of a small child. It's already bad enough being forced into the position of needing to befoul yourself in a public place and hoping to the good lord above someone doesn't grab your ankles mistaking your groans as a sign of flirting, but having to preform such a vile act in such a vile place simply makes you feel even worse about yourself than before you walked in.
To begin with, I'm the type of person that prefers making poopie in the comfort of my own home. Sitting atop a familiar bowl instead of some foreign toilet with a cold welcome. Sitting in a seat on an airplane or in the back of taxi is bad enough with you replacing the recently vacated seat only to feel the fresh warmth of strange ass, but to realize that your naked flesh is about to come into contact with a surface that was just in contact with a complete stranger's under carriage? I'd rather be stopped up for days with no relief in sight. Nevertheless, sometimes the deed must be done and so you find yourself swallowing your pride and expelling the pride you swallowed the night before.
This leads us to the exciting part of this blog, for me anyway. Earlier today I was walking through our local mall and the urge hit me and I knew it was time. Normally my body affords me a few warnings before the big event, but not this time. I was like a woman whose water had broken during a romantic dinner out on the town with her husband; leaping up, knocking over glasses, grabbing my stomach and yelling "My god, Frank! This is it" while everyone around suddenly stirs into a quiet panic over the miracle that is about to happen. Except, no miracle would be coming from me this day. All things sin and damnation? Yes.
I walked into the public restroom just off one of the wings near the food court. Instantly I recognized this as a poor decision on my part. Too many people were around thus giving way to the chance that I would not be able to find the solace that this expulsion from paradise required. It was then when I was reminded of what I now affectionately refer to as, The Secret Room. The Secret Room isn't really a secret at all, but in a way it is because it is a distinct part of this particular public bathroom that goes mostly overlooked. A few minutes walk from the bathroom that I was currently in and I soon found myself standing in front of the place where a king's bathroom had been made. Bergner's.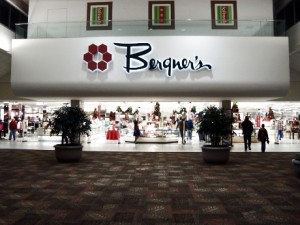 When you're in a department store you don't really give too much thought to the idea that they have a public bathroom unless you either really need to go or you have children. Bergner's has it's bathrooms located on the upper level, but unlike most department stores, their bathrooms are not located near customer service or those swinging doors leading into the backrooms. Instead, they are located at the back of the bedding department. Despite this convenient location in relation to the comfort of bedding, I will still not be calling it a restroom, so don't hold your breath.
When you walk past the memory foam pillows and down comforters you come to a narrow hallway which leads to a single door. Upon opening the door your experience in the bathroom could be like any other in any number of public bathrooms unless you are fortunate enough to notice out of the corner of your eye that fortune has presented you with the multiple choice. Option A: The aforementioned cramped, pseudo-private stall(s).
Or, Option B: The luxurious and spacious bathroom quarters of…the wheelchair accessible room. That's right, a room. This ain't no stall, baby.
I know what you're probably thinking right from the start. I'm not in a wheelchair, therefore I don't have the right to use this facility. I freaking beg to differ. Besides, considering the nature of the act itself, I'm not going to overstay my welcome in the bathroom any more than I need to. It's not like I'm parking my car in the handicapped spot and taking my time inside of Wal-Mart trying to find the best five dollar movie in the bin. Well, giving that a second thought, and seeing the fine, fine quality of the option b, I might grab the Wall Street Journal, bring in a cup of coffee and sit a spell. Okay, okay, so this is what I will call a restroom. Can you blame me, though? It's private. I'm sealed away from all manner of outside interference. Short of being sound proof (which it might as well be) I can make sounds that I feel comfortable enough to make and not worry about the contorted faces they will impose on those standing at the urinals just beyond a thin wall made of  particle board wall. I mean, look at this place:
If you're going to be one those people who strongly opposes my right to freedom of bathroom choice because I am not physically challenged, I present this little fact to you. Walk back down the mall about halfway and walk into Von Maur.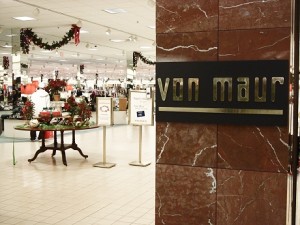 Von Maur is another department store within the same mall that also has public bathrooms for its clientele, however, one need not to be in a wheelchair or have any sort of physical limitation to enjoy the luxuries that await them when Mother Nature calls. No physical limitation that is unless you happen to be a man.  It's a common misconception that only women would prefer bathrooms that offer more than just a toilet. Men, if ever given the chance, might also enjoy the chance to sit comfortably, perhaps even have a television where they can sit around and watch sports while their lady-folk are off and about. Stick in a vending machine, and ladies, your husbands will beg to go shopping with you.
In reality, though, Von Maur probably has taken the luxury of their bathroom too far:
I shouldn't complain though. Yes, yes I should, because if you walk to the other side of the store and into the men's room this is what you'll find:
I'm kidding, of course. It actually has a door on it.
-Travis Lickey